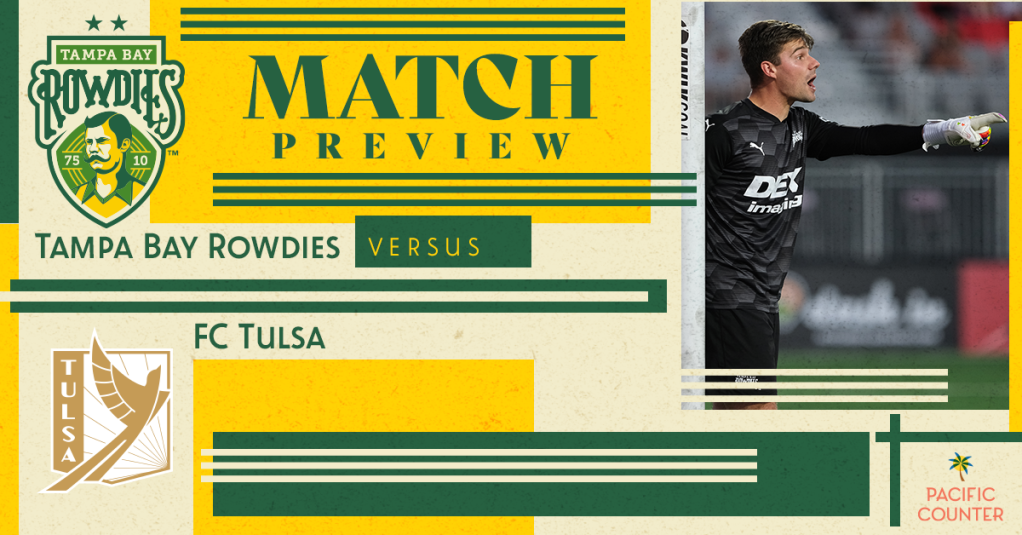 Matchday 24 Info:
Tampa Bay Rowdies at FC Tulsa
Friday, August 18, 9 pm ET
ONEOK Field, Tulsa, OK
The Tampa Bay Rowdies are back on the road for a Friday night rematch with FC Tulsa this week. Tampa Bay recently handed Tulsa a 3-0 loss on July 29 at Al Lang Stadium. Now the Rowdies will look to replicate that winning performance away from home, something the club has struggled to do in their last three road trips. The Rowdies have gone winless in their last three away matches, failing to find the back of the net each time.
Head Coach Nicky Law is keenly aware that if the Rowdies want any chance to be the last team standing come the end of the year, they'll need to find a way to turn their road form around.
"A big area of improvement for us moving forward is these games on the road," said Law. They're going to be big in determining where we finish this season. We know we're a strong home team, but you have to pick up points on the road as well. It's a huge part of finishing in those top 1, 2, 3 spots come the end of the season. Games like Friday in Tulsa.
Friday will only be the second time the Rowdies have traveled to face Tulsa at ONEOK Field. Last year, the Rowdies secured a point in a 1-1 draw after conceding a goal in the 83rd minute.
"We have an idea of what they want to do," said Law. "I'm sure they have an idea of how we like to play as well so I'm sure there's going to be a couple things they might alter from what they did in the game at Al Lang. There's one or two things we want to improve on as well from that game. We'll need to be at full tilt to get anything from the game. We just have to make sure we get the guys in the right frame of mind to do that."
Carrying Momentum into Tulsa
The Rowdies have posted three victories by large margins in their last three outings at Al Lang Stadium, which were followed up with less emphatic efforts on the road. A focus this week is on holding onto and building upon the momentum from the strong performances at home heading into a road matchup.
"It's bringing that intensity, taking the momentum from this past game against Monterey into this weekend," said forward Jake Lacava. "We know it's tough going to these different fields and playing on them and implementing our style, but it's not impossible. I think with the group of guys that we have we can play anywhere, and we can dominate any team on any field."
For Law, the emphasis is on quality and belief going forward.
"We have to maintain our work rate and our reactions to losing the ball, which have been really good," said Law. "On the other hand, we also have to improve a lot in possession and obviously in our belief and our quality in those final moments. It has to be a lot better. That's the biggest improvement I'm looking for I think going into Friday."
Injury Report
OUT: Leo Fernandes, Lewis Hilton, Sebastian Dalgaard, Abel Caputo, Zach Herivaux
QUESTIONABLE: Dayonn Harris