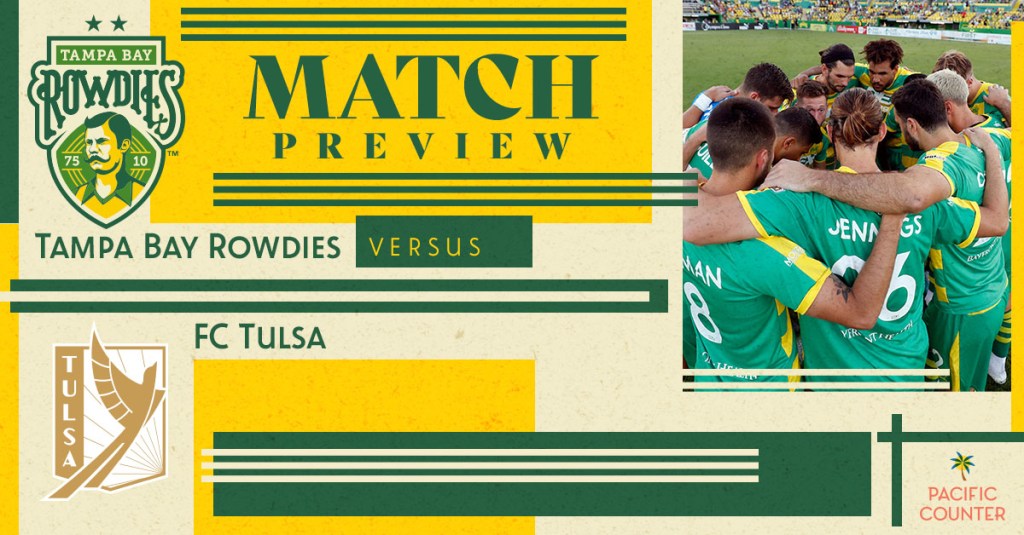 Matchday 21 Information:
Tampa Bay Rowdies vs FC Tulsa
Saturday, July 29, 7:30 p.m. ET
Al Lang Stadium, St. Petersburg, FL
Pride Night Socks Promo: Secure a ticket for Saturday's match plus a pair of Rowdies Pride socks by purchasing a Pride Night package here.
Tickets: Buy tickets for the match by clicking here or visiting the stadium box office starting at 4 p.m. on matchday.
Watch: Stream the match on ESPN+.
The Tampa Bay Rowdies return home to Al Lang Stadium Saturday with a new head coach at the helm. Former Rowdies midfielder Nicky Law will lead the Rowdies for his first match in charge after being announced on Thursday.
"The lads have been fantastic my first few days, as you expect," said Law. "It's been high tempo, high spirits. I couldn't have asked much more from the first few sessions from players and staff. We're looking to build on that now and really step on the gas a little bit now heading into this last part of the year."
Law's first test as head coach will be against a red-hot FC Tulsa squad that has won five straight contests to climb into 7th place in the Eastern Conference. Meanwhile, the Rowdies will aim to get back in the win column after posting a loss and a draw away from home in their last two outings.
"I'm very pleased that the first game is at AL lang. For the boys to have to go on the road in back to back with everything that's gone on is really difficult. I think they probably feel that they could've come back with more points than they did, so a little disappointed with that. Everybody has a positive attitude and is looking ahead to this final stretch of the season. We're really excited to get out there in front of our home fans on Saturday and test ourselves against a good team."
High Tempo, Fast Start
The Rowdies are scoreless in their last two matches. To turn that around this Saturday, they will look to replicate more of what the squad showed in the second half in Indy but from the first whistle at Al Lang.
"The effort is the biggest thing you can control. I expect us to play fast and at a really good tempo. I expect a really quick start at home to really get the fans behind us from the start. That's my biggest expectation going into the weekend, Control what you can control. The biggest thing in any game is your effort and desire to win the game. That's what I'll be looking at this wweekend."
Room to Grow on Defense
The Rowdies came away from last week's trip to Indy with a point and their sixth clean sheet of the year. With the shutout, Rowdies keeper Connor Sparrow's goals against average improved to 0.81, giving him the second best average in the league. As a squad, the Rowdies have allowed 20 goals through their first 20 matches. Only Pittsburgh and Sacramento have conceded fewer goals so far in 2023. Still, the Rowdies feel there is plenty of room for improvement when it comes to limiting the opposition.
"We had the clean sheet in Indy but as one of the guys in the back line I don't think we're satisfied with it," said center back Forrest Lasso. "We gave them a few chances that we would like to eliminate. I think our defensive performances have been pretty strong. We've gotten the results in some of the games where we've conceded, which at the end of the day 3 points is the most important. But to get that clean sheet and give the guys in front of us a little motivation or more determination to go win the game for us I think is huge."
Injury Report
OUT: Lewis Hilton, Zach Herivaux, Sebastian Dalgaard