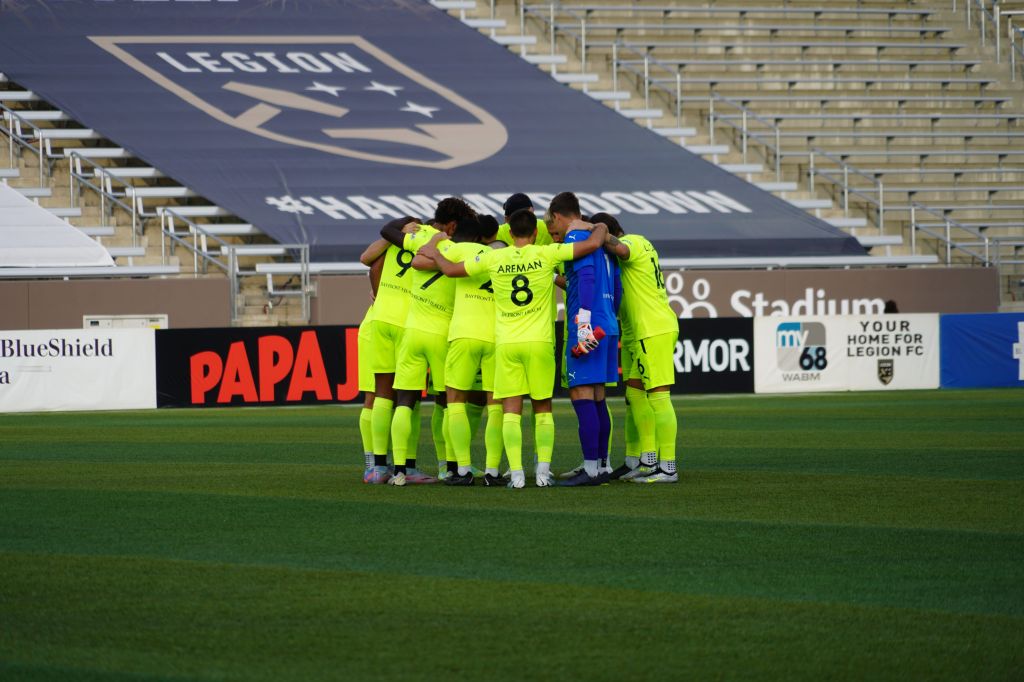 The Tampa Bay Rowdies unbeaten streak was snapped at eleven matches with a narrow 1-0 defeat to Birmingham Legion FC on Saturday night at Protective Stadium. Birmingham's Enzo Martinez nabbed the lone goal of the evening to seal the result for the hosts.
"I'm so proud of the guys," said Rowdies Interim Head Coach Stuart Dobson. "They're gutted right now. I know how much they wanted to keep the streak going. I know how hard they worked. They wanted to keep it going for themselves and the staff. You can see in their face that they're not happy with this result."
Saturday's match was a choppy clash between the two Eastern Conference foes. By the time the final whistle had blown, 28 total fouls had been called, with the Rowdies drawing 11 of those whistles from the referee.
Tampa Bay were aggressive in pushing Birmingham into a few precarious situations and turnovers, yet the final pass or shot eluded them throughout the match. Birmingham had the best chance of the first half in the 25th minute when Matthew Corcoran launched a long-range effort on frame that Rowdies keeper Connor Sparrow parried away with a diving save.
After playing to a scoreless stalemate at the halftime break, Birmingham wasted no time jumping ahead in the second half. In the 49th minute, keeper Mat Van Oekel launched a long ball over the top that found Prosper Kasim in stride. Kasim penetrated the box before centering a pass for Martinez to redirect into the back of the net.
"We created through turnovers, I thought, three good chances in the first half," said Dobson. "But the ball didn't roll our way and we didn't capitalize on those moments. In the second half we let our guard down and they get one."
Jake Areman earned Tampa Bay's first shot on target of the night, firing a volleyed-rebound with good pace from outside the box but right at Van Oekel. Substitute Charlie Dennis had the only other attempt on goal, placing a low strike from the top of the box into the arms of the keeper.
Unable to break through in the final third, the Rowdies were shutout for the first time since April 23, when the club suffered their last loss.
"That final pass was missing," said Dobson. "It was that final pass, or maybe we got greedy and took that shot instead of making the last pass. We've had games like this before the streak started and the ball didn't just quite roll our way. I feel if we were to play again and we get a goal early to start then the game is very different. That's football."
Next up, the Rowdies remain on the road to face Indy Eleven on Saturday, July 22. Tampa Bay played Indy to a 1-1 draw in the season opener back at Al Lang Stadium on March 11.
"I thought it was a gutsy performance by the guys tonight," said Dobson. "They're disappointed not to get the result, but I can tell their mindset is already about making another run. Let's start next weekend in Indy and kick off another run like we've just had." 
Scoring Summary
BHM – Martinez (Kasim), 49'
Lineups
TBR: Sparrow, Antley, Lasso, Guillen, Doherty, Ekra, Dalgaard, LaCava, Areman, Jennings, Williams
BHM: Van Oekel, Crognale, Kavita, Alves, Smith, Asiedu, Corcoran, Matthew, Martinez, Pasher, Kasim, Agudelo