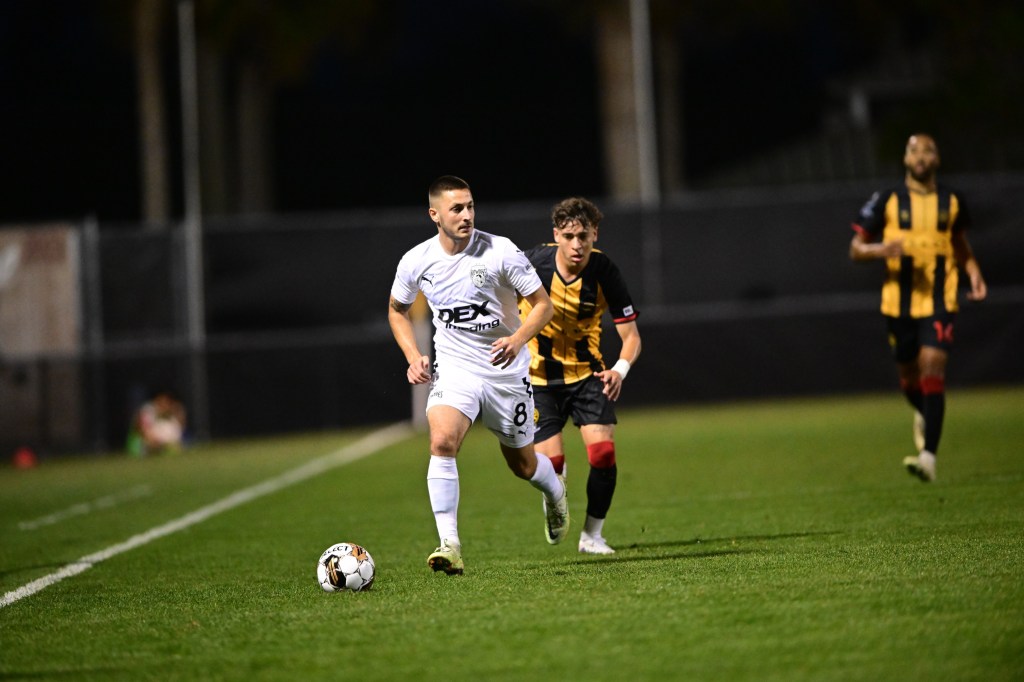 The Tampa Bay Rowdies suffered their first defeat of the season on Saturday night, falling to the Charleston Battery 3-0 at Patriots Point. Charleston jumped ahead with two early goals and added a third in the second half to seal the result.
"When you go back and look, there were major issues with the whole performance," said Rowdies Head Coach Neill Collins. "We just didn't do enough to win a game of football, and Charleston did. That kind of sums it up best. We didn't do the things that we do well, and we didn't do them enough to win, especially in a tough place like this."
Charleston's Fidel Barajas broke open the scoring through an individual effort in the 4th minute. Making the most of a window of space several yards outside of Tampa Bay's box, Barajas launched a left-footed strike past the outstretched fingertips of keeper Phil Breno.
The hosts doubled the lead in the 11th minute after Rowdies center back Forrest Lasso was whistled for a foul on Derek Dodson in the box. Breno got a hand on the ensuing penalty attempt from Augustine Williams, but it wasn't enough to keep the effort from reaching the back of the net.
Tampa Bay held the edge in possession through the match (60-40) and outshot Charleston (12 to 8), yet they couldn't produce many meaningful shots to threaten the goal. Only two of Tampa Bay's 12 shots were shot on target, while seven corner kick opportunities went unconverted.
"To be two-nil down after 12 minutes, you're probably not full of confidence at that point in time," said Collins. "It definitely puts you in a tough situation. I actually thought the way we progressed into the game, there were definitely enough opportunities for us to get back into it and to take something out of it. But we didn't make enough of those opportunities. We didn't turn them into enough clear cut chances."
Charleston's third came against the run of play in the 58th minute. A hopeful shot from distance by Nicholas Markanich to a deflection off of Tampa Bay's Jordan Doherty to catch the already diving Breno off guard as the ball popped over him and into the net.
Saturday's result is just the fourth time the Rowdies have conceded more than two goals in a match since Collins took over in 2018.
"We lost three tonight, which is really disappointing," said Collins. "We're maybe not getting the breaks in games at times, but equally I'm a big believer in you make your own luck. You make your own luck by doing the fundamentals well and showing the right mentality. That's how you get your confidence back and have the breaks start to go for you. I don't think we're doing those things well enough right now."
The Rowdies return home to Al Lang Stadium next Saturday, April 1 to take on Birmingham Legion FC at 7:30 p.m. Tickets for the match can be purchased by clicking here or by calling 727-222-2000 during normal business hours.
Scoring Summary
CHS – Barajas, 4th minute
CHS – Williams, 11th minute
CHS – Markanich, 58th minute
Lineups
TBR: Breno, Herivaux, Kleemann, Lasso, Guillen, Harris, Herivaux, Doherty, Dennis, Areman, Ekra, Jennings
CHS: Muse, Dodson, Crawford, Palma, Cochran, Allan, Barajas, Polvara, Markanich, Trager, Williams