FC Tampa Bay Head Coach Ricky Hill has a unique pedigree among coaches in North American soccer. Having played for years in England's top flight and for England's National Team, in addition to an extensive coaching career in his home country, the Caribbean and the US, Hill has one of the most interesting backgrounds of any coach in the professional divisions of North American soccer.
The club that Hill is most associated with, Luton Town FC (The Hatters) has an opportunity this Saturday to return to the Football League in England after several seasons of financial implosion. The financial mismangement contributed to the club spiraling down the divisions of English football. Ironically, the Hatters will face AFC Wimbledon in the Blue Square Premier Playoff Final- Luton Town and Wimbledon FC (now MK Dons) faced off in one of the most famous FA Cup semifinals ever in 1988.
Hill said "Saturday is a great opportunity for Luton Town, but of course I am disappointed and deeply saddened by what happened for us (Luton Town) to be where we are (outside the Football League) today."
When Hill starred in the midfield for Luton Town during the 1980s, the team was a fixture in England's top division- what is today the Premier League. Hill played a critical role in helping the club win its greatest achievement- the 1988 League Cup Final, in which the Hatters beat Arsenal 3-2. "To be part of Luton Town's first major trophy I'll always cherish that," Hill said.
Hill broke his leg against Everton a few weeks prior to the FA Cup semifinal in 1988, and was unable to participate against Wimbledon. Still, Hill believes Luton Town should have prevailed that famous April day. "We should have beat Wimbledon; we were the stronger side that day," Hill recalled.
The following year, Luton Town again reached the League Cup Final, but lost to Nottingham Forest who was coached by Brian Clough. In this final, Hill started alongside Roy Wegerle, the only player to play for both the original NASL Tampa Bay Rowdies and the Tampa Bay Mutiny of MLS.
In 1990, Hill joined Leicester City and his former Hatters coach David Pleat. Today Pleat is seen on Premier League broadcasts and writing acclaimed tactical columns for the Guardian Newspaper. Pleat's influence on Hills' career and thinking about football cannot be overstated.
"I've known David Pleat since I was 16, He spotted me when I was on my school side. I owe a great debt to him. I didn't want to leave London even though Luton was only 30 miles north." Despite his qualms of leaving London, Hill thrived at Luton Town. "Pleat preached simple attractive football. Movement off the ball was critical. We played a lot of one and two touch football. He was creative. Luton was the perfect place for me due to Pleat and his Brian Clough style man and tactical management. "
Hill's coaching style reflects much of what he learned from Pleat. "He was always looking for new ideas, searching the continent (Europe) and South America for quality and tactics."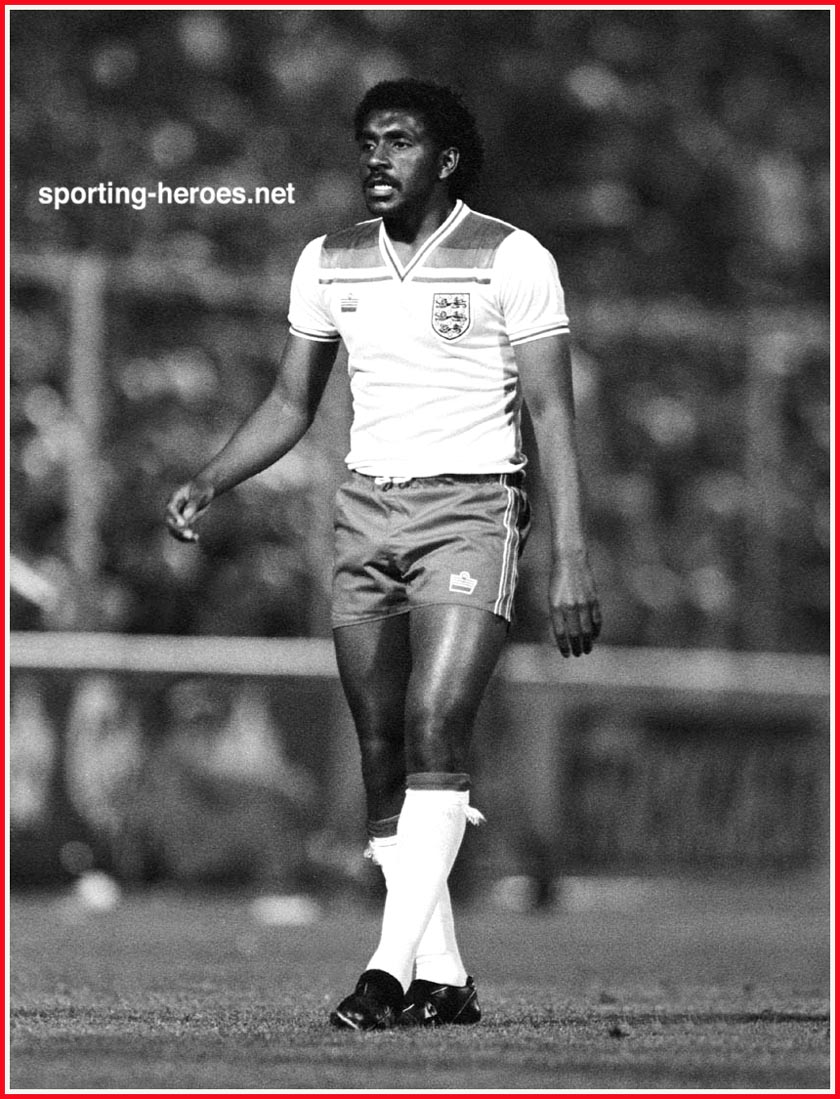 Hill with England (Photo by George Herringshaw/sporting-heroes.net)
Hill was among the first black footballers to ever play at the full national team level for England. He made his debut in Sir Bobby Robson's first game as England manager, a European Championship qualifier vs Denmark in 1982. Hill's appearance in that match was the first by a Luton Town player for England in 27 years.
Ricky Hill has been around the game since his childhood. Hill sold programs at Wembley during the infamous 1974 Charity Shield game between Liverpool and Brian Clough's Leeds United. The match was Clough's first in a disastrous 44 day reign as coach of the Yorkshire club. "Wembley has a special place in my heart. I grew up going to games there and sold programs as well as a child."
Hill arrived stateside after his short stint at Leicester and was named APSL Coach of the Year in 1992 as the Tampa Bay Rowdies won the national championship. As a player/coach, Hill returned the Rowdies to the pinnacle of American club soccer. Hill soon left the Rowdies and eventually managed Luton Town and was assistant manager at several English clubs, including Tottenham Hotspur and Sheffield Wednesday.
"I never wanted to leave (Tampa Bay) in the first place, but the organization wasn't stable. I always wanted to come back," Hill said. On the current Tampa Bay team he coaches, Hill feels the organization is making great strides. " Here with FC Tampa Bay, we have taken soccer commercially and player recruitment to another level- bringing in top players from Japan, New Zealand, and other corners of the globe."
Ricky Hill and FC Tampa Bay host Montreal on Saturday at Al Lang Stadium. Kickoff is set for 7pm EDT.