Night Practice at Braden River a Success
Posted on Tue, Mar 6, 2012
The Rowdies held their first Night Practice of 2012 in front of a spirited crowd at Braden River Soccer Club in Bradenton on Tuesday night.

The players arrived just before 6:00 p.m. and had the chance to warm up with many of the youth players who came to see the club. Following warmups, the club held a 60-minute training session.

Rowdies head coach Ricky Hill said the team enjoyed the experience.

"It was great to be out here and meet the local supporters and young players from the club," said Hill. "We tried to give them a little taste of what we do during a normal practice session during the week. It was a pleasure to be out here and I know the players enjoyed it."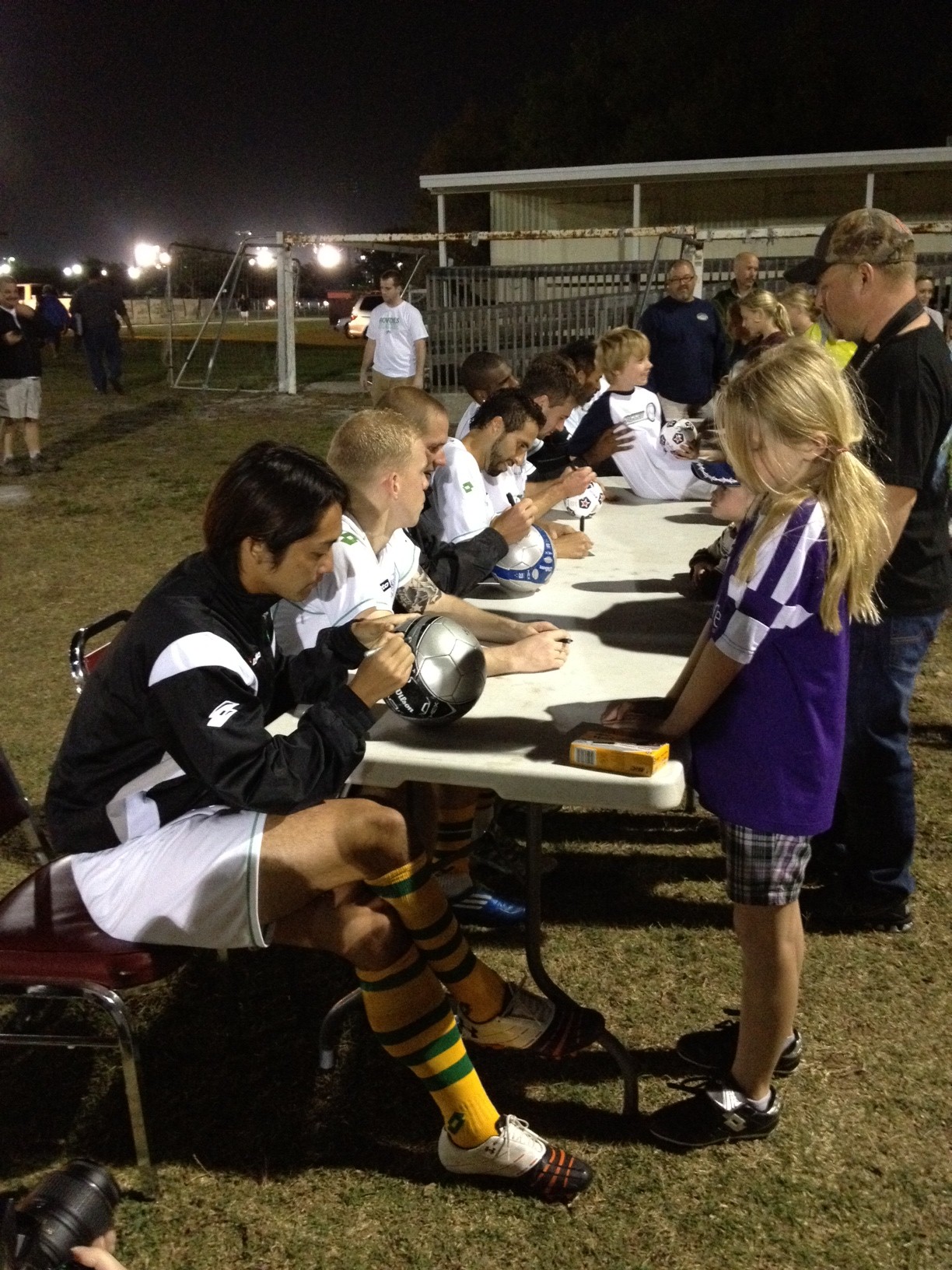 Rowdies defender Daniel Scott said the players relished the opportunity to practice in a fun environment.

"I think it is great for us to be able to showcase our abilities to this community and the entire Tampa Bay area," said Scott. "I remember being that age trying to emulate players I looked up to so it is important to conduct yourself in a respective manner on and off the field because these kids are looking up to us."

"I think it is great for our club," said Brenden Moriarty, Braden River Soccer Club President. "It is an opportunity for both our recreational kids and our competitive kids to see how the professionals train. We want to show the team our support, but more importantly, we want to show the kids that they all have an opportunity if they work hard and focus on practice, they might have a chance to play professionally one day.

Moriarty said he would welcome the Rowdies back anytime, and he strongly recommends other clubs do so as well.

"Our kids are getting an opportunity to see these young men train and work hard, and that gives them something to aspire to," said Moriarty. "I encourage everyone to do this."

If your club is interested in hosting the Rowdies for a night practice or event contact the Rowdies Front Office at 813.287.1539 or info@rowdiessoccer.com.