Lee Cohen - Chief Operating Officer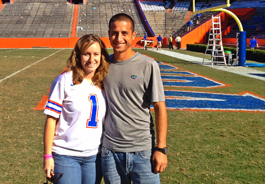 Lee Cohen previously worked for United Soccer Leagues as Director of PDL Operations where he coordinated all the components of league operations and provided strategic planning for all 68 clubs throughout the eight divisions in the league. As director of PDL operations, Cohen assisted in the development and execution of new franchise sales and was responsible for the development and implementation of the first men's combine. Cohen graduated from Flagler College in 2005 with a B.A. in Sport Management and a minor in business administration.
Contact:
(813) 287-1539
lcohen@rowdiessoccer.com

Arden Robbins - Chief Revenue Officer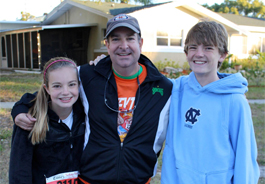 Arden Robbins enters his first season with the Tampa Bay Rowdies in the newly created position of Chief Revenue Officer. Robbins leads sales, business development and core revenue generation for the club. His primary focus is to develop and expand the Rowdies corporate partnerships and oversee the expansion of the team's ticket base.

Prior to the Rowdies he served as the Director of Sales for the Copperhead Charities, a 501c3 that owns and operates the PGA Tour's Tampa Bay event: The Tampa Bay Championship (formally, the Transitions Championship). During his three PGA Tour events; sponsorship revenue increased over 90% and ticket sales over 60% which resulted in 3 straight years of financial success. In addition he consulted the organization on marketing, promotions, two advertising agency searches, public relations, ticket sales and charitable endeavors.

Prior to the Transitions Championship, he was Vice President of Corporate Partnerships at the Tampa Bay Lightning. During his time, sponsorship revenue grew over 30% breaking into the NHL's top ten teams. He also worked in sports marketing at Turner Broadcasting Corporation, the owner and operator of Philips Arena, The Atlanta Hawks, the Atlanta Thrashers, the Atlanta Braves and Turner Field. Since moving to Tampa in 2005 he has been active in the community supporting the Pediatric Cancer Foundation, PlaySmart, Inc., St. John's Episcopal Day School, Tampa Bay United Soccer Club and the South Tampa Sticks Lacrosse Club.

Robbins received his BA from Hobart College and his MS in Mass Communication from Boston University. He and his wife Wendy, son Graham and daughter Hadley reside in South Tampa.

Contact:
(813) 287-1607
arobbins@rowdiessoccer.com

Jered Clifford - Account Executive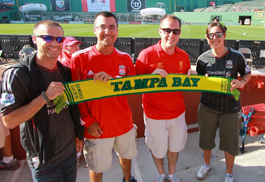 Jered Clifford joined the Tampa Bay Rowdies in January of 2013 as an account executive. He joined the front office staff after spending a season with the New England Revolution. Clifford, originally from New Hampshire, graduated from the University of Tampa with a Bachelor's of Science degree in Sport Management and a minor in Marketing. He has experience with multiple sport organizations through his career including: the New Hampshire Fisher Cats, Transitions Championship, Tampa Bay Rays and the Tampa Bay Rowdies. Clifford is currently working towards his MBA in Sport Management and resides in Largo, FL.

Contact:
(813) 489-4353
jclifford@rowdiessoccer.com

Austin Fetzer - Account Executive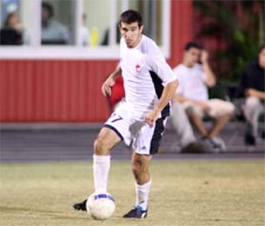 Austin joined the Rowdies in January 2013 after graduating from University of Tampa with a Sport's Management Degree. He interned with Transitions Championship and coached college soccer in Connecticut. He also played collegiate soccer, and is from Connecticut. He resides in St. Petersburg, FL.

Contact:
(813) 287-1596
afetzer@rowdiessoccer.com









Britny Cuilty - Account Executive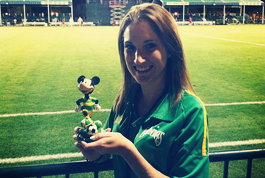 Britny Cuilty joined the Rowdies in January of 2013 after graduating from the University of Tampa with a Bachelor's in Sports Management. She has worked for many other teams in the area such as the Tampa Bay Buccaneers, Clearwater Threshers and New York Yankees Spring Training. She is originally from Newburgh, NY.

Contact:
(813) 287-1561
bcuilty@rowdiessoccer.com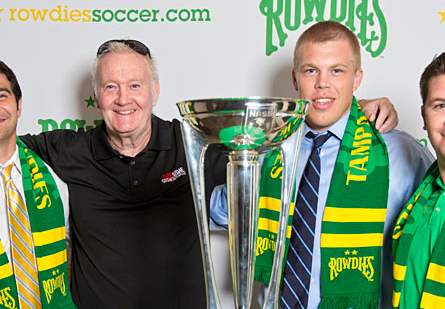 Alex joined the Rowdies in February 2013 and graduated from University of Tampa in May with a Bachelors of Science degree in Sports Management. He previously interned for the Transitions Championship and The New England Revolution. Originally from Cambridge, Massachusetts he currently resides in Tampa.

Contact:
(813) 287-1569
aluce@rowdiessoccer.com
Ana Dias - Social Media & Productions Coordinator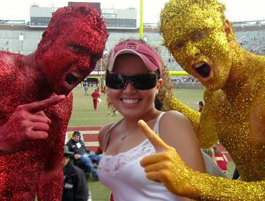 Ana joined the Tampa Bay Rowdies after working two years with the Tampa Bay Buccaneers. As a graphic designer there, she created graphics for the Buccaneers website, gamedays as well as graphics and flyers for the different departments in the organization. She graduated from Florida State University with a Bachelor's degree in Information Technology with an emphasis in Communication & Design. Ana was originally born in Brazil but has been living in the United States since she was nine years old.

Contact:
(813) 287-1582
adias@rowdiessoccer.com

Nico Castillo - Communications & Marketing Coordinator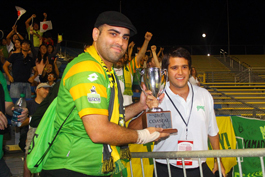 Nico joined the Rowdies in January 2012, working in the Communications Department. He graduated in December of 2012 from the University of Tampa with a Bachelor of Science in Business Management and Sports Management. Nico is originally from Buenos Aires, Argentina and has been living in Tampa since 2008.

Contact:
(813) 287-1549
ncastillo@rowdiessoccer.com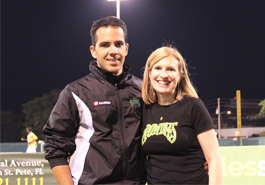 Danilo joined the Rowdies during the 2010 inaugural season as chaplain. He is the soccer director for SCORE International, a non-profit Christian ministry. Danilo also serves as chaplain for the University of South Florida Women's Soccer Team and Head Coach of the Cambridge Christian School Girl's Varsity Soccer Team. Danilo is originally from Brazil and resides in Lutz with his wife and son.

Contact:
(813) 287-1549
Info@rowdiessoccer.com